Born in Clytha, Monmouthshire, on 19 August 1857 Private Robert Jones was serving with the Second Battalion of the 24th Regiment of Foot when he became one of the 11 soldiers to win the Victoria Cross in the battle of Rorke's Drift, Natal, over the 22nd/23rd January 1879. A force of around 100 British soldiers defended a small mission station by an attack of around 3,500 Zulus, before being relieved by a column commanded by Lord Chelmsford.
Hundreds of Zulus surrounded the mission hospital where a handful of soldiers, including Robert Jones and William Jones, and dozens of patients, were barricaded. Jones used his bayonet to defend a doorway into a hospital ward until it was almost filled with dead and wounded Zulus.
Despite suffering four assegai (spear) wounds and being struck by a bullet, he helped evacuate six patients through holes in the walls during a desperate retreat through the blazing building. The two Jones's were then joined by Privates Hook and Williams (aka Fielding) who together, helped the surviving patients out before making their escape, Robert Jones being the last to leave the building before it collapsed.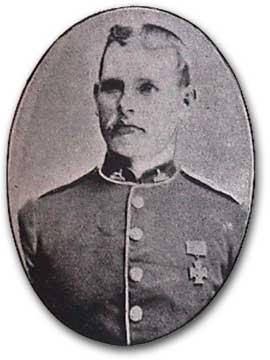 Image supplied by John Young
Following his army service Robert Jones settled in Herefordshire and worked as a farm labourer. Throughout the summer of 1898 he had been unwell, and on the 6th September, aged 41, he borrowed his employer's shotgun to go crow shooting. A shot was later heard and Jones was found dead with gunshot wounds. A verdict of "suicide whilst temporarily insane" was recorded after a coroner heard evidence that Jones suffered nightmares following his hand-to-hand struggle at the South African mission station at Rorke's Drift.
Although suicides were generally excluded from burial on consecrated ground, Private Jones's VC meant that his body was allowed to be interred in Peterchurch Churchyard, but not before the coffin was forced to enter the churchyard over a wall, and his headstone faces away from all other tombs to starkly signify the nature of his death. In 1998 an article appeared in The Sunday Telegraph suggesting that it was about time Robert Jones's headstone be reversed, but this would necessitate overturning the coroner's verdict.
Sadly, the Victoria Cross of Private Robert Jones was sold at auction in 1996 to a private buyer for the huge sum of £80,000.
Reproduced by kind permission of Victoria Cross Graves