News
28th November 2013
Death of Lt Col (retd) Mike McCabe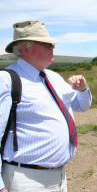 Very sadly I have just learned of the death of Lt Col (retired) Mike McCabe. Well known to this forum, He passed away after a long illness on 4th. November.
He was known here for a while using Galloglas as his username and more recently in his own name. He certainly knew his subject and I'm sure will be greatly missed.
http://www.ianknightzulu.com/sad-news-mike-McCabe
A memorial service - it will be held at St Mary's Church,
Andover, SP10 1DP at 2 PM on Friday 29 November 2013- all welcome. Reception at adjacent hall across the road from church. Ample pay and display parking.
Ian Knight been asked to say a few words
24th March 2012
Kent event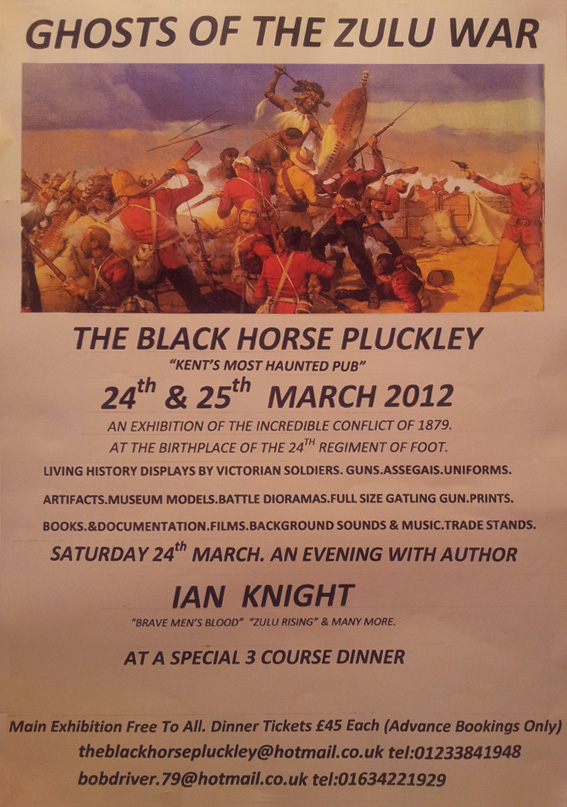 23rd June 2011
1527 Pte Michael Minihan's grave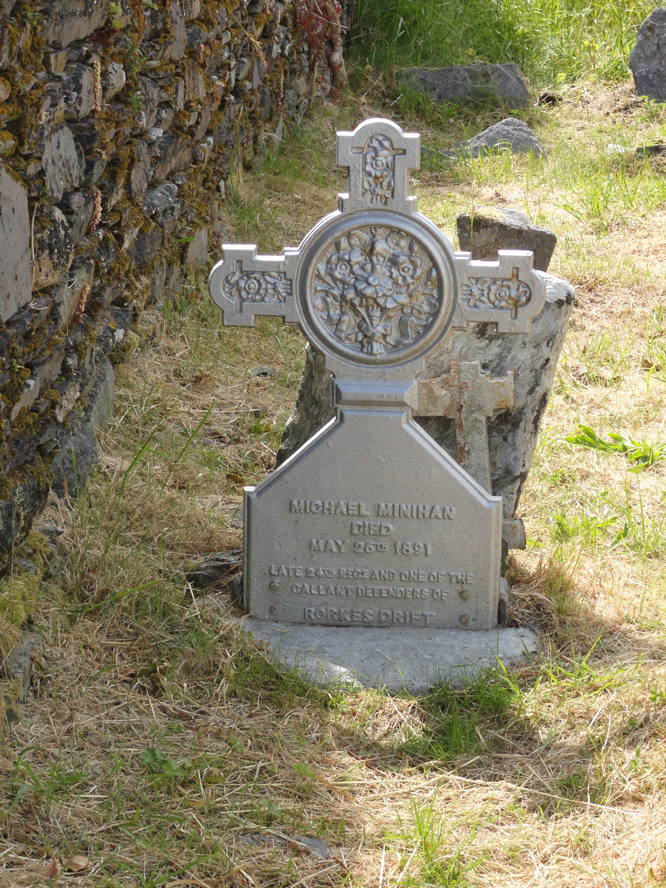 Martin Everett recently took the opportunity of visiting 2-24/1527 Pte Michael Minihan's grave at Castlehaven, near Castletownsend, Co Cork last week. The disused cemetery is at grid 176301 on sheet 89 of Discovery Series by the Ordnance Survey, Ireland. The headstone being metal has suffered over the years - however he reports that it has been recently repainted and fresh concrete used at the base.
5th April 2011
Descendent of Sgt. Gallagher dies
Peter David Lane has died on the 25th. of March 2011 at Doncaster Royal Infirmary. He was the great grandson of Sgt Gallagher, defender at Rorke's Drift, and was the cousin of the late Roger Lane.
Our condolences go out to his family.
14th March 2009
Obituary
Mr John Austin George passed away at 6.35p.m. on 14th March at the age of 92 years. Mr George attended the service in Ruddington last July for Pvt James Marshall, and even though he was of advanced years he marched unaided through the village behind the band.

Very smart - every inch a South Wales Borderer. Jack was one of the last tangible links with the famous defence of Rorke's Drift. For as a young drummer in 2/SWB he was charged to look after the veterans of Rorke's Drift who attended the Northern Command Tattoo at Gateshead in 1934. Later he was selected as the soldier's image (6/SWB) on the cover of George McDonald Fraser's 'Quartered Safe Out There' - a book about Fraser's personal experiences the Durham Light Infantry during the campaign in Burma.
Fraser is better known for his Flashman books.

Earlier this year his daughter, had mentioned to him that there were 5 veterans at the Tattoo. Her father was insistent that he had cleaned 6 pairs of shoes each evening. Both were right, 5 veterans attended, but Caleb Wood who was almost blind by that time had to be escorted by his son (the 6th pair of shoes), but Mr George's memory of the event was as sharp as a razor.

13th March 2009
Rededication of Rorke's Drift defender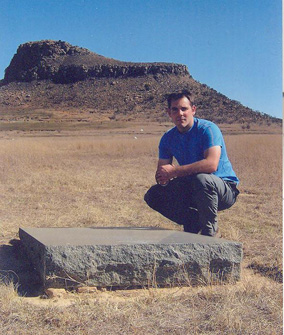 The new Luddington headstone has now been erected over the grave at Weston Mill, Plymouth. The service has now been planned to start at the graveside at 1230 on Tuesday 24th March followed by an informal reception/refreshments at the Mount Pleasant Pub on Millbay Road, Plymouth.
Thomas Levi Luddington was a defender of Rorke's Drift, where, on 22 and 23 January 1879, as a member of the Army Hospital Corps, he assisted Surgeon James Reynolds in caring for the injured during the attack on the garrison by 4000 Zulu warriors. He was later promoted to Corporal, and left the Army in May 1896. He went on to become landlord of The Naval Reserve public house at Stoke Damerel, and later the Friendship Inn, at 19 Cannon Street in Devonport. He died on 22nd March 1934 and is buried with his wife in an unmarked grave at Weston Mill Cemetery (Section B, Grave 4498).
Corporal Tim Needham is a serving Royal Marine based at HMS Raleigh, where he is a Musician Bugler with the Royal Marine Band. Tim has 'uncovered' this story, and it is his intention to pay due homage to the memory of this veteran, by arranging for the grave to be suitably marked, amidst the dignity of a formal dedication service. Tim has persuaded Coop Funeral Services to most generously fund the entire cost of a gravestone, including its placement.
With RBL's assistance a Dedication Service will take place on the morning of Tuesday 24th March. Those expected to attend will be drawn from:
The Royal Army Medical Corps (RAMC).; RAMC (TA), locally; President & Chairman, Devon Royal British Legion (RBL), Staff, and others; RBL Standard Bearer; Coop Funeral Services; Padre, Devon RBL; Luddington relations, various; Historians incl. The AZWHS; The media.
Corporal Tim Needham, supported by his Bugler Musician colleagues (if not already on their way to Basra), to perform a suitable drum roll or bugle fanfare, or both.
Proposed Programme:
o 1130 hrs: Staff & marshals (Crownhill Branch) only assemble at graveside, briefing, prepare the scene.
o From 1200 hrs: Assemble at Weston Mill Cemetery.
o 1230 hrs: Introduction / Welcome: RBL County Manager.
o 1230-1235 hrs: Historical perspective: Michael Pentreath (MP).
o 1235-1255 hrs: Service of Dedication:
o County Chaplain: Service, 9-12 mins, culminating in Blessing.
o Union Flag unveiling by senior member of Luddington family.
o Exhortation, by Chairman Devon RBL.
o Last Post, by Cpl Tim Needham and 3 other RM Buglers.
o Silence.
o Reveille (as above).
o Wreath laying by:
PCC rep
Senior member of Luddington family.
Devon RBL County Chairman.
Senior RAMC rep.
Coop Rep
Help for Heroes rep tbc
ABF rep tbc.
Others
o Disperse / media photo opportunity.
o 1315-1345 hrs: Gather at Mount Pleasant pub in City Centre.
o 1345-1445 hrs approx:
o 5 minute duration RM Drum Display, by Cpl Tim Needham + 3. 'Salute' by senior RAMC rep.
o Static displays
15th January 2009
OBITUARY
Mr. George Harris died on 20th. December 2008.
He was an important player on the field of ex servicemen everywhere, and will I'm sure be sadly missed by many, with very few who would be able to achieve what he has done on their behalf in his lifetime.
He is an ex-Royal Engineer and was successful achieving the inauguration of the 'Jordan Service Medal' and the introduction of 'The Golden Jubilee Military Medal'. Monies raised goes to SSAFA Forces Help.
He fought for a plaque in recognition of Rorke's Drift defender Pte. Thomas Collins from Camrose Haverfordwest, unveiled in May 2006.
He Joined the RDVC forum in February 2006.
Our sympathies go out to his family.


13th December 2008
A member?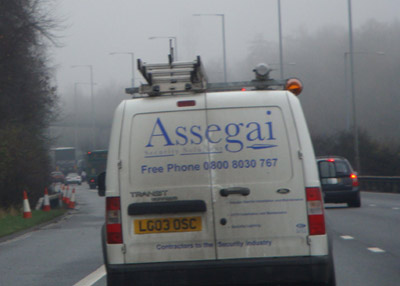 Spotted on the M25 recently.
17th September 2008
Memorials to Thomas Lewis RA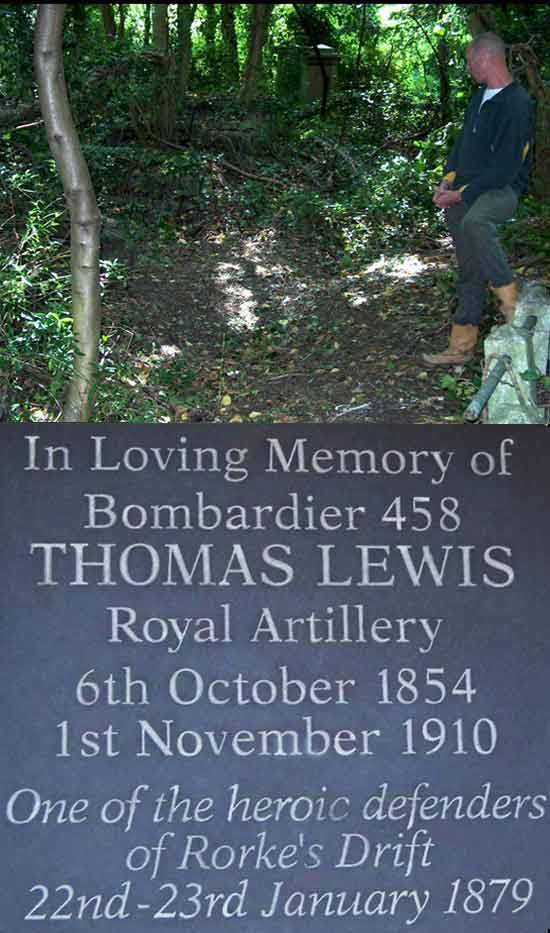 A Welsh Slate Plaque was put up on the main collonade in Highgate Cemetery on 10th Sept 2008 in Memory of Bombardier 458 Thomas Lewis. "N" Battery 5th Brigade Royal Artillery. A smaller Brass plaque will be situated on the actual grave site which is a bit inaccessable.
The help of the following made the memorial possible:
Eddie Daley, Co-Ordinator for Landscaping and Tour Guide.
My main contact at "Highgate". For his enthusiasm, friendship and hard work in arranging for the memorial on the Colonnade and for paying for the slate.
Neil Luxton. Mason.
For supplying the slate and engraving it free of charge.
Richard Quirk. Managing Director of Highgate Cemetery.
For donating the space on the Colonnade free of charge and kindly waiving all fees.
Phil Seaton Grave Digger.
For his friendship, For locating the actual site of Thomas' grave and clearing the site. I am also grateful to this enthusiastic ex "Squaddie" for "keeping an eye" on Thomas on an ongoing basis.
The memorial for the grave itself was made by John Roker.
20th August 2008
Renovation of Pte. Hook's grave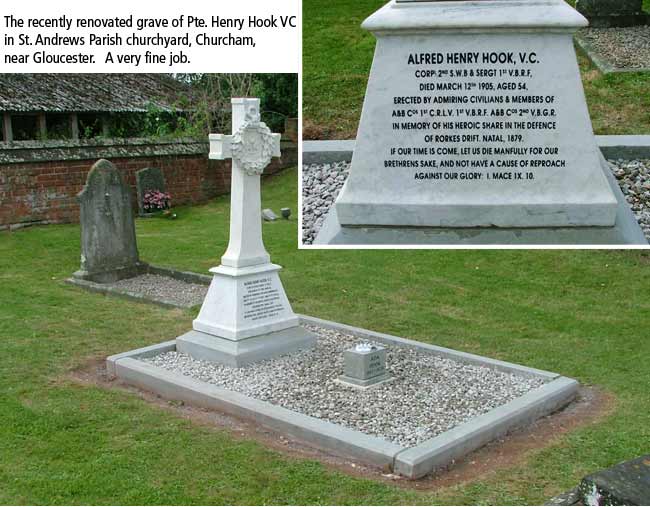 17th July 2008
IAN KNIGHT BOOK LAUNCH
Ian Knight will be launching his new book A COMPANION TO THE ANGLO-ZULU WAR (published by Pen and Sword) at the National Army Museum, London, at 7 PM on Wednesday 15 October 2008. Ian will be discussing the book and reading extracts to illustrate aspects of life on campaign during the war; books will be available in the Museum shop and Ian will be available for signing. The event is part of the series of 'Celebrity Lectures' organised as a fund-raiser for the Museum; tickets are £10 (discounted for Society of Friends of the Museum) available in advance from the Museum shop 0207 730 0717 ex 2330, or buy on line at www.national-army-museum.ac.uk/shop.

See also: http://shop.national-army-museum.ac.uk/s.nl/it.A/id.4814/.f?sc=2&category=11849
13th July 2008
Pte. Robert Tongue's Bible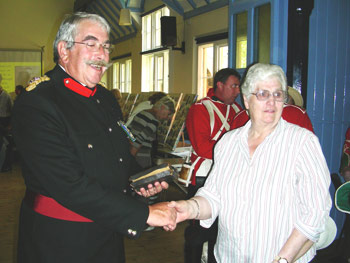 After the rededication service for Pte. James Marshall on July 13th. in Ruddington, Mrs Ruby Bromhead (Robert Tongue's grand daughter, with no connection to the AZW Bromhead) donated Robert's Rorke's Drift Bible, which Colonel Gooderson accepted on behalf of the Regimental museum of Brecon.
Robert's Bible now resides safely at Brecon along with all the others in the collection.
13th July 2008
Service of rededication of Rorke's Drift defender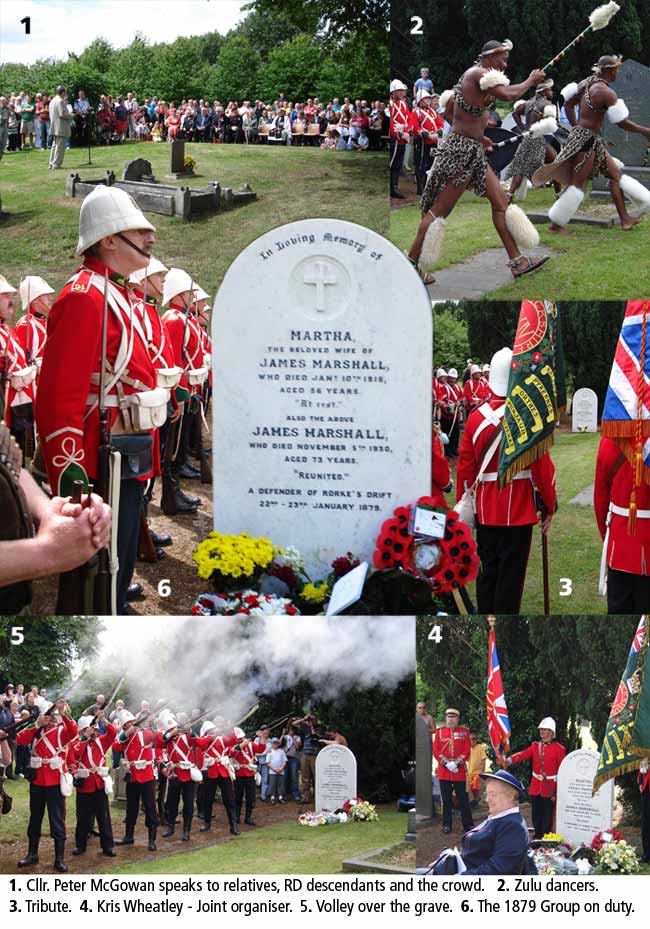 On Sunday 13th. of July, a service was held in Vicarage Lane Churchyard, Ruddington in Nottinghamshire. The event marked the restoration of the grave of a Rorke's Drift Defender, Pte. James Marshall.
The event was jointly organised by Kris Wheatley and Cllr. Peter McGowan.
A march to the grave by The Carlton Brass Band and soldiers in period uniform began the proceedings. The large crowd gathered by the grave in the immaculately maintained cemetery heard speeches from Cllr. McGowan and an Army Chaplain. Volleys were fired in salute over the grave by the 1879 Group . Flowers were placed on the refurbished grave by the Marshall family. After the last post was sounded, Zulu dancers gave a brilliant performance to a surprised crowd. In the audience were many invited guests including relatives of James and descendants of three of the VCs, Hitch, William Jones and John Williams as well as other defenders. These included Mr John George, a 93 year old Ex South Wales Borderer who was sent in 1934 as a 17 yr old Pte, to the Northern Command Tattoo to look after the Rorke's Drift Veterans.
After the service which was held in brilliant sunshine, many people took the opportunity to view the graves of two other Rorke's Drift Defenders who are each within 100 yards of Marshall's Grave. Privates Robert Tongue and Caleb Wood. Remarkable to have three RD defenders in one small village graveyard.
Afterwards at the fine buffet lunch, there was the opportunity to meet and talk to various people who are involved in the subject as well as to view the displays arranged by Kris and Neil Aspinshaw.
The dancers were part of "The Mighty Zulu Nation" based in Huddersfield. the group do a lot of work in schools promoting racial harmony and mutual / cultural understanding. as well as appearing in theatre's. They are well known internationally for their work.
The Band was "The Carlton Brass Band" from Nottingham.
The re-enactors were, the 1879 group, and Neil Aspinshaws group, Soldiers of the Crown.
The VC descendants were Sandra Barker (Hitch), Tony Jones (William Jones) and Colin Fielding (John Williams).
The padre was Chaplain Steven Griffiths from 49 Brigade, Chetwynd Barracks, Notts, who only arrived back from operational duties overseas a couple of weeks ago.
Regimental representatives were Colonel P.L. Gooderson, Royal Welsh, and Major Martin Everett SWB Museum.
Martin Everett took Robert Tongue's Rorke's Drift bible back to the museum at Brecon donated by Roberts grand daughter who died on 6th June. The bible was found amongst her effects.
22nd May 2008
A RORKE'S DRIFT DEFENDER
25B/1410 PTE WILLIAM PARTRIDGE 2/24TH
A RORKE'S DRIFT DEFENDER
REDEDICATION OF GRAVE/PROVISION OF HEADSTONE

A new headstone to replace a simple wooden cross at the grave of Rorke's Drift Defender, William Partridge, will be erected and dedicated on Sunday 21 September 2008 in Blaina Cemetery, Gwent.

William Partridge was born in Ross-on-Wye, Herefordshire on 27 June 1858. He enlisted into 24th Regiment at Monmouth on 5 June 1877 having previously served in the Royal Monmouthshire Militia. Partridge was one of a draft that joined 2/24th in South Africa in July 1878. In January 1878, he was one of the small garrison at Rorke's Drift which held out from over 12 hours when the mission station was attacked by a Zulu force of 4,500 warriors. Following the end of Zulu war, Partridge remained with 2nd Battalion when it moved to Gibraltar, but was soon back in UK. Whilst at the Regimental Depot in Brecon, William met and in November 1880 married local girl Mary Reeves. Mary was the sister to Sarah Reeves who in 1876 had married Corporal William Allen – Corporal Allen was awarded a Victoria Cross for his actions at Rorke's Drift. William Partridge was medically discharged with a pension from the army in November 1881. On 16 April 1930, he died at Blaina aged 71 years.

In 1980s Gary Partridge was able to locate the exact where his great grandfather's was buried and made a simple wooden cross which to mark the spot. It has always been the family's hope that William's grave could be marked by a more permanent memorial. The dedication of this new headstone will take place on Sunday 21 September attended by William's family, friends, serving members of The Royal Welsh – the present regiment - together with the Regimental Band of The Royal Welsh.

14th May 2008
964 Pte James Marshall service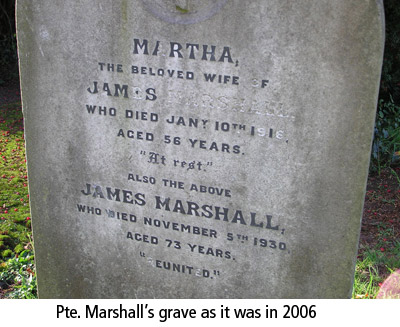 There is to be a service for 964 Pte James Marshall, 2nd 24th. On the occasion of the rededication of his restored headstone. It will take place at Ruddington, Nottinghamshire, on Sunday 13th July at 2.pm, at Vicarage Lane Cemetery Ruddington. The Band of the Royal Engineers T.A. will be in attendance as will the "1879 Living History Group", and the "Soldiers of the Crown Group". Many descendants of the defenders are also expected to attend. The service will be followed by a buffet and displays of memorabilia/ photo's at St Peter's Rooms, Ruddington.
His headstone has been cleaned, repaired, and the words "Rorke's Drift Defender" added. There will be a march through the village by R.E. / TA band & 1879 group with replica 24th colours, prayer service in the cemetery by army chaplain, the 1879 group will fire the salute over the grave using Martini Henry's. Following that the band will play whilst the family/organisations lay flowers. Then the closing prayer. The band and 1879 group will then march out of the cemetery.
Also, repairs to Robert Tongue's headstone (damaged by a grasscutter) is being arranged and is hoped to be completed by the same time.
All are welcome to attend to services.
1st May 2008
Honorary degree for David Rattray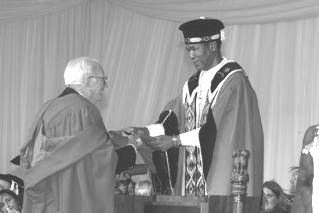 On the 15th April 2008, Dr. Peter Rattray received an honourary Doctorate from the University of KwaZulu Natal on behalf of his son, David Rattray.
Dr Rattray said the degree was one of the best tributes to a man "..who loved South Africa unreservedly. David had lived among Zulu people most of his life and was steeped in Zulu history and could speak the language."
On presenting the honorary degree, vice-chancellor Professor Dasarath Chetty said David Rattray had been a brilliant and extraordinary orator who shared his deep love and passion for the environment, Zulu culture and the country through his work. "The University of KwaZulu Natal is privileged and takes immense pride in honouring this unique individual, whose work symbolised the very essence of African scholarship."
David's mother, Gillian Rattray, his wife Nicky and three sons Andrew, Douglas and Peter were also present at the ceremony. Nicky said she was "extremely proud that the univeristy saw fit to honour David in this way."
17th April 2008
William Jones VC new headstone
On Friday 2nd November 2007 a ceremony was held at Philip's Park Cemetery, Manchester, to commemorate the unveiling of a headstone for the grave of Pte 593 William Jones V.C.
This was the culmination of four years of campaigning which led to the chance meeting with the Lord Mayor of Manchester, Councillor Glynn Evans.
A further meeting was arranged with Steve Southern, Head of Bereavement Services, and Steve Downey, East Area Parks Manager.
Not only was the possibility of a long overdue headstone discussed, but concerns were also raised over the future of the plaque dedicated to Jones which was displayed on the now derelict Chapel within the grounds of the cemetery.
Once permission had been obtained from all the relevant departments, events moved at a surprising rate. The ceremony was to be arranged at short notice to coincide with Remembrance Day, taking into account the commitments of the Lord Mayor who had kindly agreed to lead the ceremony for Jones.
Amongst the guests who helped to make it a special day were members of the 1879 Society in their splendid period uniforms and staff and children from Ravensbury Community School who sang and laid wreaths. Members of the Manchester Police Museum also attended in Victorian dress, fitting considering that Jones was found by the police wandering the streets towards the end of his life. Also in attendance was John Roberts, the Great Great Grandson of William Jones who spoke passionately about his relative.
Special thanks should be given to Father Andrew's and Reverend Thomson who led the prayers and blessed the headstone.
It is hoped that once the Chapel at Philip's Park Cemetery is demolished (unfortunately it appears the cost to repair it is too great)| a memorial garden will be erected within the 'foot print' of the Chapel and that the plaques of Jones and Stringer, another V.C. holder buried at Philip's Park Cemetery, will be displayed in the grounds.
In the meantime copies of the original plaques are displayed proudly on the lodge to the entrance of Philip's Park and Jones' grave; complete with the new headstone has been included in the Park's Heritage trail.
16th April 2008
Lord Ashcroft to Exhibit 50 Victoria Crosses at Spink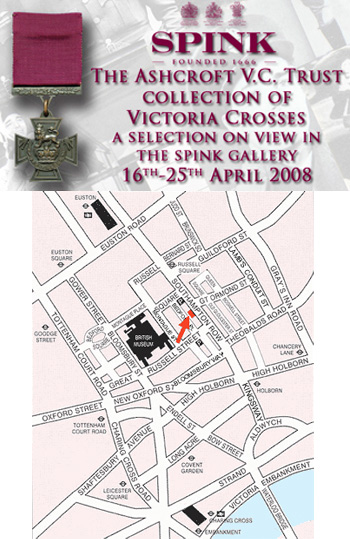 Spink, in association with the Ashcroft V.C. Trust, will be hosting an exhibition of fifty Victoria Crosses from the most  important collection of these Awards ever formed.
Britain's largest display of the world's highest and most prestigious Decoration  for Gallantry for over half a century will be open to the General Public in Spink's Main Gallery, 16th-25th April 2008....more
Spink London
69 Southampton Row, Bloomsbury, London WC1B 4ET
Tel: +44 (0)20 7563 4000
21st March 2008
Prince Mangosuthu Buthelezi Awards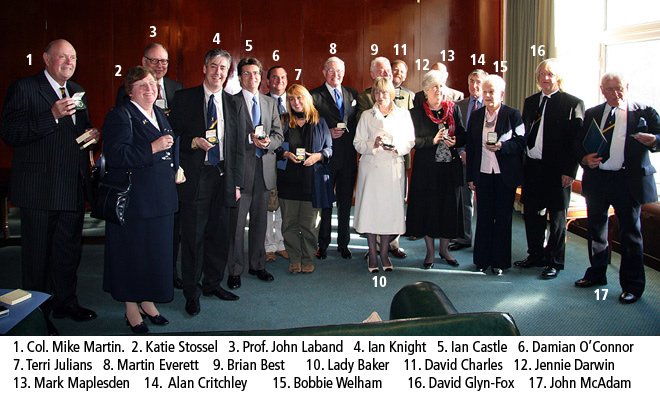 There is a new set of awards which are approved by Prince Mangosuthu Buthelezi. The people who received the inaugural awards at the Deepcut Barracks in Surrey, were for Service to the Zulu People as approved by Minister Prince Buthelezi in June 2006, they are:-
Gold. Postumous
Sir Stanley Baker - received by Lady Baker
SB Bourquin - received by his niece from America
David Rattray - received on behalf of Nicky Rattray by David Charles.
Gold Life Service
Professor John Laband - travelled from Canada.
David Charles - travelled from South Africa, philanthopist and cultural expert.
Ian Knight - author, tour guide.
Silver
Brian Best - Chairman The Victoria Cross Society
Ian Castle - author, lecturer and tour guide.
Alan Critchley - RDVC web site.
Maj. Martin Everett - Curator Brecon Museum
Barry Leitch - founder of Shakaland and advisor to Shaka Zulu
Col. Mike Martin - MD Holts Battlefield Tours - Zululand 1984-90
Isobel Swan - MD Holts Battlefield Tours - Zululand 1990 to present time.
2007 Awards.
Gold;
Terri Julians - Aids nurse, Northern Zululand.
Silver
Mark Maplesden - Researcher, lecturer.
Dr. Damian O'Connor - Author and Schools Zulu Studies Liaison.
2008 Awards
Gold;
Roberta Welham - Patron and Fund raiser for the RD Zulu Village
Silver
Jenni Darwin - Co Patron and Fund raiser for the RD Zulu Village
Katie Stossel - Fund raiser for the RD Zulu Village
At the same time, five degrees were presented from the Calamus International University.
Mark Maplesden BA The role of the Royal Artillery in the Zulu War
David Payne MA The life and times of a Victorian Gentleman - Charles Harford CB
Brian Kieran PhD The defence of O'Okiep (Boer War SW Africa)
David Glyn-Fox PhD The effect of the AZW on the Zulu nation
John McAdam PhD Communications and the media during the Anglo-Zulu War of 1879
The awards were organised and presented by Dr. Adrian Greaves of the Anglo Zulu War Historical Society.
31st January 2008
Rattray Essay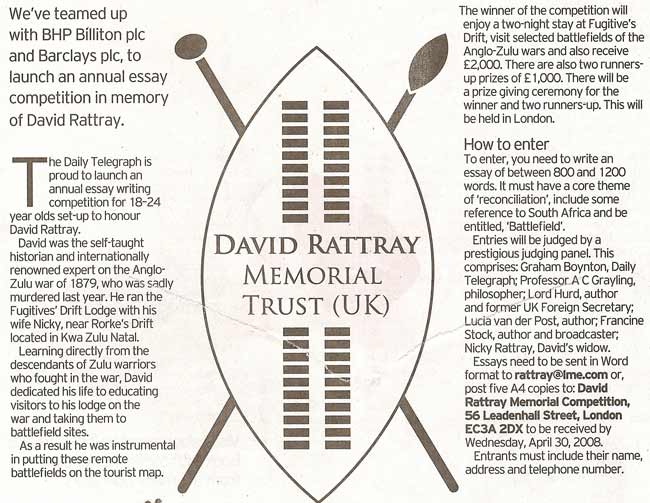 An essay competition for 18-24 year olds is being run through the Daily Telegraph.