Why was he awarded the Victoria Cross?
With Allen, he kept communications at the hospital open, despite wounds, allowing patients to be withdrawn. After his wounds were dressed, he worked through the night by dispensing ammunition to his comrades at the defences. He was 22 at the time of the defence.

Click here to read his account of what happened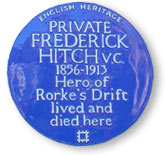 Further Information
Hitch was born at Chase Side, Southgate, London on 29th. November 1856. He enlisted in London on 7 March 1877 aged 20 years. Severely wounded at Rorke's Drift in the right shoulder by a roughly made Zulu bullet, which shattered the bone and permanently disabled him. On his return to the UK he was a patient at Netley Hospital and was finally discharged for the army with a pension in August 1879.
He was employed a Commissionaire at the Imperial Institute, but later became a London Cab Driver. He died in January 1913 and is buried in Chiswick Cemetery. His funeral was attended by a large number of London 'Cabbies' and still today there is the Fred Hitch gallantry award for Cab drivers.
He was married on 5th. July 1881 to Emily Matilda Meurisse. They had 11 children, three of whom died at an early age:
1. Frederick Hitch born 16th July 1882; died 21 Aug 1928 .
2. Charles Frederick Hitch born 13th May 1884; died 13th March 1955.
3. Louisa Hitch born 1 Feb 1886; died ???.
4. Emily Matilda Hitch born 15th Sept 1887 d 13th Nov 1888. (Nova Genitatium)
5. William Hitch born 7th Nov 1888; died ??? .
6. Florence Hitch born 6th Jan 1891; died 30th Dec 1893. (Meningitis)
7. Victoria Maud Hitch born 28th Jan 1893; died 4th March 1935.
8. Winifred Hitch born 17th Oct 1894; died ???.
9. Courtney Hitch born 20th Dec 1897; died 28th March 1906. (Scarlet fever)
10. Dorothy May Hitch born 11th Aug 1901; died 1967 .
11. Selina Hitch born 9th March 1903; died ??? .
All were born in London.
His Victoria Cross was presented to him by HM The Queen at Netley Hospital on 12 August 1879. The Cross was stolen from his jacket while he was a Commissionaire and his son petitioned Lord Roberts for a replacement. (His replacement VC is in the SWB Museum Collection. To this day the original has never been found).

Further Information supplied by the South Wales Borderers Museum, Brecon.