Photo of some of the 'B' Company Survivors from Rorke's Drift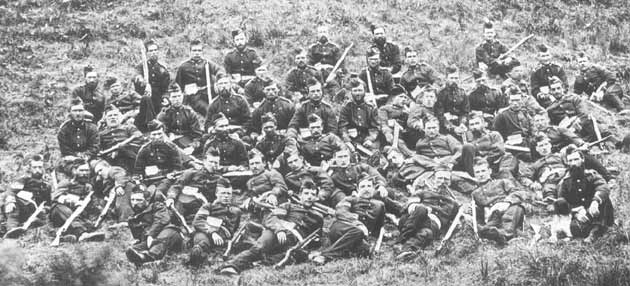 'B' Company Survivors of Rorke's Drift who had not been repatriated through injury or illness. Probably taken at Pinetown, September 1879.
Move your mouse around the image and names will appear after a second or so.
Furthest left CS Frank Bourne, Far left on front row, Bromhead. Behind the fourth from Bromhead is John Williams. To Frank Bourne's left is Pte. Michael Minehan, the company's right marker. The Sergeant two along from Bromhead's left is Henry E. Gallagher, and the man two along from Gallagher's left is Sgt. Joseph Windridge. The man to John William's left is John Jobbins. The man on the extreme upper right is Drummer Patrick Hayes. Hook is at the back right in the middle. Two down diagonally to Hook's right is George (Orchard) Edwards. Five along from Edwards's left is (allegedly) Robert Jones and to his left William Jones.