Market Place
FOR SALE
The items in this section are items which visitors to this website wish to sell. There is a fixed fee of £10 per advert. Each ad can contain a low resolution image which must be supplied as a jpeg, along with a description of no more than 100-150 words. Contact details of the seller are to be contained within the ad and any dealings are conducted between the vendor and prospective buyer. The item will be displayed for three months from insertion but can be removed at any time at the request of the vendor.

RDVC will accept no liability for any inaccuracies or faults in any goods advertised or sold. It is for the vendor to supply genuine information and the purchaser to satisfy him or herself of the worthiness of any goods.

WANTED
The items in this section are items which visitors to this website are looking for with a view to buying. There is a fixed fee of £5 per advert. Each ad would consist of a description of no more than 100-150 words. Contact details of the advertiser are to be contained within the ad and any dealings are conducted between them and any contacts made. The details will be displayed for three months from insertion but can be removed at any time at the request of the vendor.

RDVC will accept no liability for any inaccuracies or faults in any goods bought as a result. It is for the advertiser to satisfy him or herself of the worthiness of any goods bought as a consequence.

HOW TO SUBMIT DETAILS:
1. Take any photos of the item
2. Send as JPEG image(s) along with details to marketplace@rorkesdriftvc.com
3. Send cheque with amount payable to 'Alan Critchley' to

RDVC Marketplace
35 Ware Road
Hertford
Hertfordshire
SG13 7EB (For overseas submissions, email first).
For Sale
ORIGINAL MARTINI HENRY Mk2 RIFLES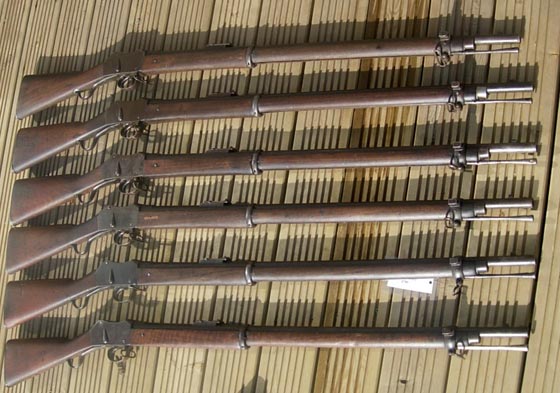 The Iconic service rifle of Anglo Zulu wars, The Martini Henry Mk2 .450/577.
These genuine original rifles are sold as antique collectors display items in the UK, and are in perfect order and do not need to be de-activated or held on firearm certificate.
Manufactured at the Royal Small arms factories in Enfield and Birmingham between 1873-1878. These guns carry a host of historical proofs and military markings. I have Original Bayonets also.
Inert .450/577" Martini drawn round always supplied
Prices between £600-£750
For more information please contact me neilaspinshaw@turentek.co.uk
07977 995892 (UK)