Sunday 28th January
Woke up with a stinking hangover. Spent the day nursing this. Sat around a lot, swam in the pool a bit, ate some food that was cooked on the Braii (barbecue for us brits!) and prepared for the long flight home. This was to take off at 9pm, so we left Benoni, having said goodbye to the family's 6 dogs, and drove to the airport for 7pm.


After some fond farewells, and promises to return, which will be kept, we went to the gate and boarded the Virgin flight to come home.
This arrived at Heathrow at 6am the following morning, and life returned to normal. At least that's what everyone else may think!
Peter's final comment...
Having seen such a variety of scenes on our trip, I am now convinced that I have actually seen very little. South Africa is such a large country (it's easy to forget when your looking at a map, especially when you compare it to a similar map of Blighty) that you can really only skim the surface of the wealth of experiences that exist. The people are a tribute to the desire to reconcile, and moreover the country has a kind of universal pulse which keeps you interested and excited.
It's an easy country to relax in, and people - especially in Natal - are keen to talk to you and help you understand the local culture. Many times I felt overwhelmed by the information and experiences, but without exception, I enjoyed every moment of it.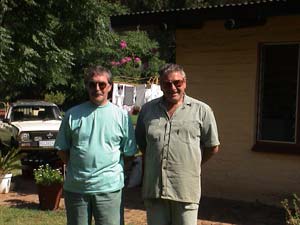 My Dad, Alan and his brother Les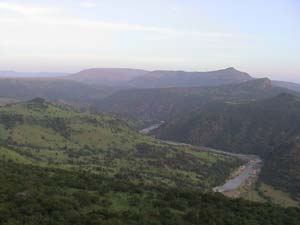 The view to the Buffalo River I will never forget
If you are interested in repeating our trip, you would be foolish to miss out on Fugitive's Drift, because as the image on the right shows, it truly is one of the most beautiful places on earth.
Please Contact me if you have any questions.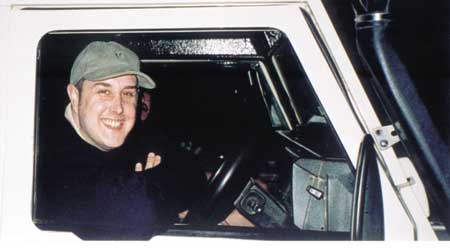 Here I am - the lucky driver of one very large Landrover!