Thursday 25th January
Our flight, with British Airways, left Johanneburg International at 7.30am, 45 minutes later than scheduled, and landed at Port Elizabeth, 800 miles away at 8.45am.
We then got a taxi, with a chap called Adrian who turned out to be 5th generation from the original settlers that settled Port Elizabeth. He offered to take us on a guided tour, which we decided to take at 1pm that afternoon.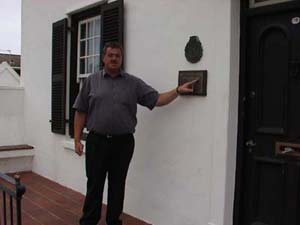 Adrian, showing us the house of his descendents

The Horse Memorial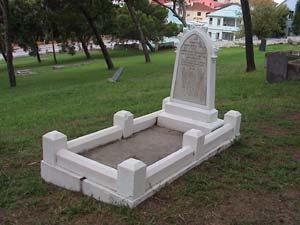 The grave of James Langley Dalton
We had some breakfast, wandered around a while and then met with Adrian, who took us all around the city, all the while explaining the different parts of the town.
It is a remarkably European city, with very clean streets and the sea lapping at a pristine beach. We visited the only memorial in the world for Horses, which is from the Boer War and then went to the Russell Road Cemetery, where we finally visited James Langley Dalton's final resting place.
As the main force behind the plan to defend Rorke's Drift, this was a special moment for my Dad who has spent quite some time visiting the memorials of all those VC winners from Rorke's Drift buried in the UK. I found this quite a moving experience, and was pleased to have suffered the flight to come here.
The grave was well tended and had recently been painted, so it was in very good order. We then left and spent the evening in the Hotel, thinking of the days events.