Saturday 20th January
Our plan today was to go directly to Rorke's Drift after having hired a car. This plan changes a little as the day progresses, as we all feel as if we could do with a day of complete rest before advancing on Rorke's Drift. Matt and myself take a trip to a local flea market and browse the local art and crafts.
The bargains that present themselves are too much to resist and trinkets are bought by the dozen! I am particularly proud of a Zulu mask that I purchased, handcrafted and painted. The people here are friendly to the point of annoyance, and I am finding myself having to break out of the English habit of being polite and standoffish. This place positively encourages interaction.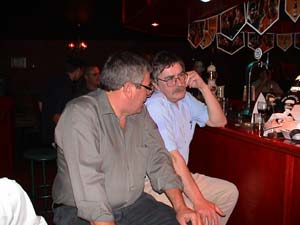 My Uncle and Dad sitting together in a bar
The mix of races is a complete opposite of the restaurant the previous night. I must admit to a certain degree of expectation of what I would find in this country, and I must endeavour not to try and bend South Africa to fit my pre-conceived notions of what it would be like.
We visit a pub with Greg and Caroline, my cousins and then spend the evening at the large Casino/Leisure centre near by. Again, I am struck by the friendliness of the people, and particularly impressed by the prices of the drink!