Zulu Odyssey
By Phil Read
My interest in the Anglo-Zulu War had begun, like many men of my age, after watching the film 'Zulu'. My grandfather took me to the cinema in the Fulham Road (I think it was called the ABC at the time) to see the film in early 1964. Watching the film on a huge screen as a five-year-old boy, I was utterly spellbound. I pestered my parents into taking me again a few days later, and again a week after that. Later on, when the film was on television, it was taken as read that the whole family would be forced to watch, and woe betide my sister if she dared to suggest that there was something better on another channel. Years later, I think in about 1977, the film was shown on New Year's Eve. My friends thought I was joking when I said that I wouldn't be joining them in whatever festivities they had planned for the evening. Unfortunately, we didn't own a video recorder, so I would be spending New Year's Eve at home! For my 21 st birthday, I organised a fancy dress party specifically so that I could dress up as a British soldier circa 1879.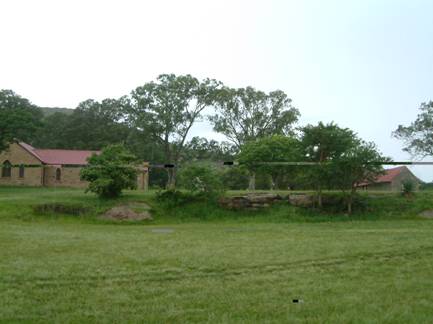 Rorke's Drift
Through my twenties and thirties, my love of 'Zulu' matured into a broader interest in the Anglo-Zulu War. I always hoped to visit Rorke's Drift and Isandlwana one day, but somehow work, marriage, two children, divorce and another marriage got in the way.
One day, when I should have been doing something useful in the office, I typed 'Rorkes Drift' into an Internet search engine. I had discovered www.rorkesdriftvc.com. Accessing the site on a daily basis, it was a joy to discover how many others people had a similar interest. I also realised how little I knew about all things AZW. But I was pleased to see that visits to the battlefields were not uncommon.
In early 2003, I started to plan our trip in order to coincide with the 125 th anniversary in January 2004. My main problem was convincing my wife, Louisa, that she wanted to accompany me. I managed to sell her the idea of a wonderful South African adventure, safari etc., and oh, by the way, while we're there we may as well pop in to see one or two battlefield sites. I spoke to various travel companies about my plans, none of which had even heard of Rorke's Drift. My luck changed when I spoke to Jonathan Humphreys of Hartley's Safaris, a travel company based in Lincoln. He knew the area well, and was aware of the forthcoming 125 th anniversary. After a few phone conversations he had put together an itinerary that suited us. We were on our way.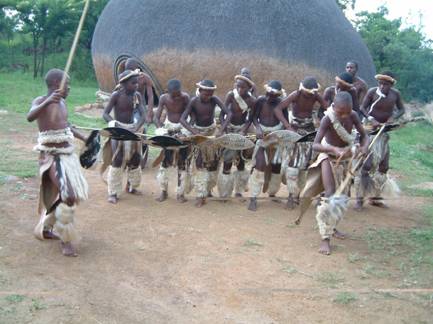 Zulu cultural evening
I had a pleasant surprise soon after we had booked our trip. My mother-in-law had been vaguely aware of my interest in the AZW. Discussing our planned trip, she mentioned in passing that she had an old friend who was a published AZW author. Perhaps I might like to meet her? I could hardly believe my luck when she told me that her friend's name was Sonia Clarke. I had the honour of meeting Sonia and her husband Neil in November 2003. Sonia said that perhaps after our Kwazulu Natal tour, we might like to have dinner at their house and look through some of her work. I tried to appear nonchalant as I accepted her kind offer.
We flew to Durban via Johannesburg with South African Airways, arriving on the morning of 17 th January. Picking up our hire car at the airport, we then made the 4-hour drive North on the N2 to the Phinda game reserve. Here we spent four days at the spectacular Mountain Lodge.
On the morning of the 21 st January, we drove south and then west, through Empangeni and Melmouth, then turning off the R68 towards Isandlwana. Bumping along the dirt road, I caught my first glimpse of Isandlwana in the distance, a site that had become so familiar to me from many photographs. Driving on, prising my eyes away from the hill and back to the road, I managed to avoid hitting any of the hundreds of children and cattle walking by and sometimes in the road. We passed Rorke's Drift, then Fugitives' Drift Lodge, before finally arriving at Isibindi Zulu Lodge after a 5-hour drive.
That evening we went to a traditional Zulu village, where we were entertained by the singing and dancing of local boys aged about 12 or 13. We were invited into an igloo-style hut for a meal and a sorghum beer. Back in the Isibindi Lodge bar, fortified by my earlier beer, I introduced myself to the great-granddaughter of Surgeon Reynolds, who was in the area helping to set up a medicinal herb garden for the local community.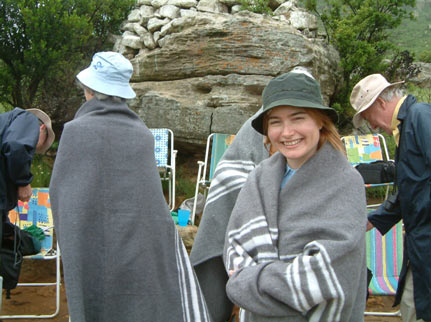 You told me it would be hot!
The next morning we had a full schedule ahead of us, with an Isandlwana tour in the morning and a Rorke's Drift tour in the afternoon. Our guide should have been the lodge's resident Zulu historian. A Zulu guide might give a different perspective on those historic events of 125 years ago. Unfortunately, shortly before our arrival, he had gone to work for a rival company. Instead, our guide for the day was Neville Worthington, who proved to be both entertaining and informative. I think that it was when he drew the famous 'horns of the buffalo' with his walking stick in a dirt track that it struck me that, 40 years after I had first seen 'Zulu', I had finally made it here. Later on that morning we climbed halfway up Isandlwana hill, to the site of Younghusband's last stand, and from here we heard the account of the battle with the entire battlefield laid out before us. We lunched at Rorke's Drift, and in the afternoon toured the site. I was surprised by how small the site was, and the close proximity of the hills behind.
The next morning we had checked in to the Fugitive's Drift Lodge by 0715 hrs in order to make the Isandlwana tour leaving at 0730 hrs. Our guide for the morning was Rob Caskey. I had an article in my rucksack from the Independent newspaper praising Rob for his evocative story telling and uncanny ability to remember the name of every member of the group instantly. Thankfully, he didn't disappoint us on either count.
The next day we went on the Rorke's Drift tour with David Rattray. Forced to shelter in the church from the persistent rain, we listened with growing awe to David's account of the battle. This was surely the highlight of our South African adventure, and I vowed to be in the audience the next time he spoke in London.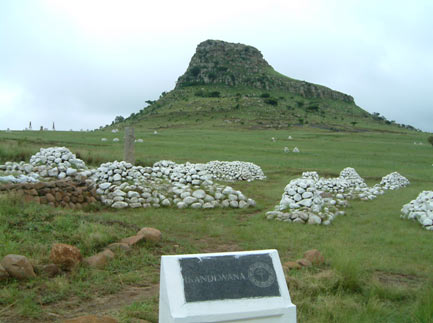 One huge bonus in staying at Fugitives' Drift Lodge over the anniversary was meeting so many interesting people. Brigadier Innes of the Royal Engineers, curator of the RRW museum at Brecon Martin Everett, Deputy British High Commissioner Andy Sparkes, all the staff at the lodge, plus common or garden AWZ enthusiasts like myself all sat down together in the evening to discuss the day's events.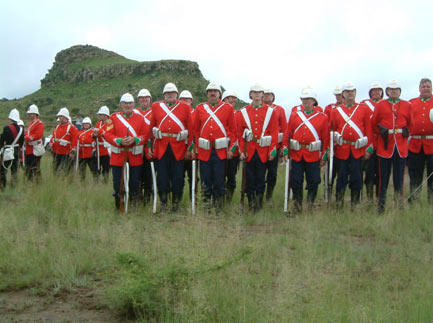 Saturday 24 th January was the day of the 125 th anniversary commemorations. We arrived at Isandlwana in good time for the 1000 hrs start. By noon nothing much had happened as we were, by all accounts, working to 'African time'. However, there were some good photo opportunities when the 300 or so Zulu warriors taking part in the re-enactment arrived. In between frequent returns to the lodge vehicles for refreshments, we listened to snippets of speeches from the assembled dignitaries, including Prime Minister Mangosuthu Buthelezi and King Goodwill. There were two re-enactments during the afternoon, thoroughly enjoyed by combatants and non- combatants alike.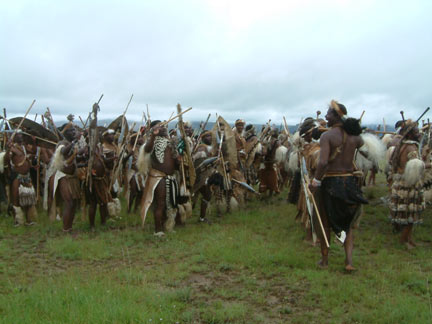 Our final full day at the lodge was a more relaxed one, but we still managed a drive out to the Mgwebeni valley and the Mangeni Falls. The next morning we left the lodge early in the morning for a 3-hour drive to Three Tree Hill Lodge, but we couldn't resist a final stroll around Rorke's Drift before we left.
After two days at Three Tree Hill and another two at Cleopatra Mountain Farmhouse we were on our way to Durban airport for a short flight to Johannesburg and then an 11-hour flight to London Heathrow.
As a postscript to this report, I found out one final fascinating fact in my love affair with 'Zulu' only recently. I wanted to check the name of the cinema in the Fulham Road where my grandfather had taken me all those years ago. I knew that it was currently a UGC cinema, but had changed hands many times over the decades. My mother knew that it was called The Forum in her youth, but thought that it was an ABC cinema in 1964. When I explained to her the reason for my question, she informed me that my grandfather, who ran a tiling business all of his life, had done some work in Stanley Baker's house in the seventies, and knew the family of Lady Baker quite well in his younger days.
So there you have it. Maybe I didn't have an ancestor who fought at Isandlwana or Rorke's Drift, but my grandfather tiled Stanley Baker's bathroom. Not a lot of people know that!