AN INDIAN PILGRIMAGE
Martin Everett
In the regimental archives of the South Wales Borderers Museum at Brecon is a faded sepia photograph that shows a Regimental Memorial dedicated to those soldiers and families of the 24th Regiment who died of fever at Ranikhet and Allahabad from 1889 to 1891. In the cemetery alongside the memorial is the grave of Major Gonville Bromhead VC, the hero of Rorke's Drift, who was struck down with fever on 9th February 1891 aged forty five. Even with a magnifying glass, the names engraved on the memorial are difficult to read. Perhaps, like Bromhead, many were heroes of the Zulu and Burma campaigns.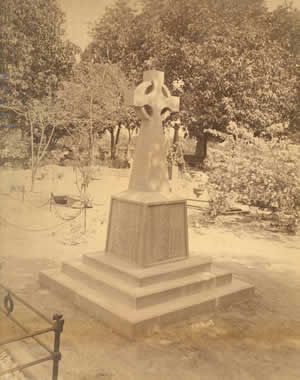 Image taken in 1892 of the Regimental Memorial
I asked myself the question: Is the memorial to those brave men still there? As far as I know, no one has visited Allahabad recently and there are no contemporary photographs in the archives. I had always wanted to visit India to see at first hand the place names that crop up daily at the museum. When two friends of the museum made me an offer to accompany them to India, I willingly accepted.
The 24th Regiment was first posted to India (Calcutta) in 1810 serving throughout the sub continent on and off for seventy six years, until 1941 when the First Battalion, then serving in Cawnpore, received orders to move to the Western Desert.
After the Zulu War of 1879, the 2nd Battalion was posted to Gibraltar. It remained there for ten months before being posted to Secunderabad in August 1880. For the next twelve years the battalion remained in India taking part in the Burma campaign (1886-1888) and then moving to Allahabad in Central India in 1890. Allahabad, at the confluence of three rivers - Ganges, Yamuna and Sarawati has always been an important religious and military centre; nowadays, it is a university and rail centre as well. Its most famous son is Jawaharlal Nehru, India's first prime minister.
We landed at Mumbai (Bombay) from London at 2.30am on 7th January, but after only a few hours sleep, we were up and ready to explore the steamy and crowded city. Our first stop was the Afghan Memorial Church, so called as it commemorates the 1st Afghan War (1839-42). Each of the regiments that took part is remembered on marble panels next to the altar. One of these was the 41st Foot (Welch Regiment). We spent three days sightseeing in Bombay before making the overnight train journey of some five hundred miles train to Indore. Indian railway stations bustle with excitement and everyone wants to practise their English on you - we were no exception. Near Indore is the military garrison town of Mhow where the Brecknockshire Battalion South Wales Borderers were stationed after their fight with the Turks at Aden in 1915. In September 1918, tragedy struck the Mhow garrison in the form of Spanish 'flu and some twenty men from the Brecknocks died. We found their headstones in the old cantonment cemetery near Mhow railway station.
The following day, we moved on from Indore by train via Jabalpur to Allahabad arriving at 10 pm at night. The journey took us a day and half. At this time India was experiencing its coldest winter for fifty years. This put a great strain on power supplies and caused the townsfolk to light fires in order to cook their food and keep warm. The result was 'smog', so thick that the rickshaw driver who was carrying us to our hotel could hardly see out of his windscreen. His mate, complete in Balaclava and scarf, had to hang outside and give directions. Fortunately, we had pre-booked at the 'HOTEL PRESIDENCY' and, eventually, we managed to find our way there.
Early next day, we hired a car and set off to explore the city of Allahabad. On the 15th January, the following day, we set off by taxi to find the cemetery we had come so far to see. The driver must have thought we were strange people as we showed no interest in the usual tourist sights. By midday we had become dispirited having tramped over two large cemeteries without finding what we were looking for; the last one seemed to be full of dead engine drivers from Central India Railways. We returned to the hotel for lunch and the manager, hearing about our interest in graveyards, told us about the old cantonment cemetery on the west side of the city. He gave directions to our driver and after we had eaten, we set off once again. Our spirits rose when we saw Brigade Headquarters, the officers' mess and the garrison church where a single track led to the cantonment cemetery. There in front of us we spotted the 24th Regiment Memorial with Gonville Bromhead's grave alongside. It was an emotional moment for all three of us.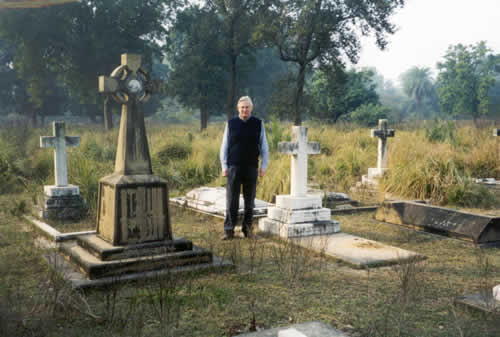 Sadly, the iron railings decorated with wreaths of immortelles had long disappeared from the grave. After taking many photographs, we set about recording the names on the 24th Regiment Memorial. Veterans from the Anglo-Zulu War included:
Lieut. Col. J.J. Harvey DSO
Major G. Bromhead VC
Sergeant J.A. Whellor
Drummer D. Kinchenton
Private A. Ker
Private T. Mitchell
There was also Florence, daughter of Major Wilfred Heaton (a friend of Gonville Bromhead) who was only a few days old when she died.
The following day, we were able to visit the little garrison church we had passed near the track to the cemetery. The small church where Gonville Bromhead's funeral service took place was built in 1891 and is dedicated to St. David - perhaps a 24th Regiment influence here. The pews still show the slots for soldiers' rifles introduced after the Mutiny of 1857 when soldiers took their rifles on church parade (just to be on the safe side). It is used these days by Syrians Christians.
On the last lap of our journey, we journeyed from Allahabad to Agra and saw its famous Fort, where the 2nd Battalion SWB re-enacted the Defence of Rorke's Drift in 1927. While in Agra we had to go to the Taj Mahal which is on everyone's list of 'must see' places to visit; and finally the fast train to Delhi, Red Fort and site of the Royal Durbar 1911, but that's another story. Our Indian pilgrimage had been long and tiring journey, but truly worthwhile, and a trip to remember for a lifetime.

Notes for potential travellers to Allahabad
Air travel:
There are no scheduled flights to Allahabad. The nearest commercial airport is at Varanasi which is 120kms from Allahabad. There are daily domestic flights to Varanasi from Agra, Mumbia (Bombay) and Delhi. See Indian domestic carriers: Indian Airlines, Sahara Airlines and Jet Airways.
Rail:
Probably to the best option; it's a fascinating way of seeing India and getting to know its people. Allahabad is a prominent railway centre and has express trains connecting all major cities of India.
See www.indianrail.gov.in
Road:
Driving is on the left with right hand drive car. Indian traffic, particularly in the cities, is very chaotic (this is an understatement!), so visitors are strongly advised to hire a driver along with a car. This is not expensive and will make the trip more relaxing and enjoyable.
Hotels:
As Allahabad is an important tourist and university centre, there are plenty of good quality 5-3 star hotels that provide good quality facilities at reasonable prices. The Hotel Presidency, Allahabad is part of Servani Hotels group. See www.shervanihotels.com
Best Travel Guide:
The best English language guide is probably the Eyewitness Travel guide for India published by Dorking Kindersley. See www.dk.com