Lt-General The Rt. Hon. Lord Chelmsford
Frederic Augustus Thesiger was born on 31st May 1827, the eldest son of Frederic Thesiger, later 1st Baron Lord Chelmsford, his wife Anna Maria. He was educated at Eton, commissioned as an Ensign in the Rifle Brigade on 31st December 1844 and exchanged to the Grenadier guards as an Ensign & Lieutenant on 28th November 1845.
He was promoted to Lieutenant and Captain on 27th December 1850, he went to Ireland in February 1852 as aide de camp to the Lord-Lieutenant and from January 1853 to August 1854 he was ADC to Sir Edward Blakeney who was commanding the forces there. He joined his battalion in the Crimea on 31st May 1855, and served there till the end of the war, being an aide de camp to General Markham, commanding the 2nd Division from 18th July to 29th September 1855 and deputy assistant quartermaster-general from 8th November 1855 to 24th June 1856. He was made Brevet Major on 2nd November 1855 and received the medal with clasp, the Sardinian and Turkish medals, and the Order of the Medjidie 5th Class.
He was promoted to Captain and Lieutentant-Colonel on 28th August 1857 and exchanged into 95th (Derbyshire) Regiment on 30th April 1858 to take part in the suppression of the Indian Mutiny, fighting at the last action at Koondrye.
He was deputy adjutant-general of the British troops in the Bombay Presidency from 13th July 1861 to 31st December 1862. He was promoted to Brevet Colonel on 30th April 1863 and was employed in the Abyssinian expedition of 1868, as deputy adjutant-general. He received the medal for the Indian Mutiny and Abyssinian campaign and was made C.B. and Aide de Camp to the Queen.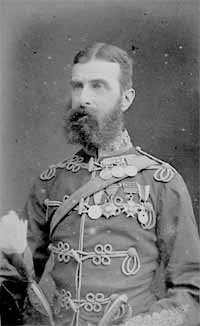 Image supplied by John Young
He was adjutant-general in the East Indies from 17th March 1869 to 15th March 1874 and lectured at Calcutta in 1873 on the tactical formation of British infantry and maintained that much less change was needed than some people supposed. He returned to England, to command the troops at Shorncliffe as Colonel on the staff from 1st October 1874 to 31st December 1876 and then commanded a brigade at Aldershot. He was promoted to Major-General on 15th march 1877 and in February 1878 went to South Africa to command the troops with the local rank of Lieutenant-General. He took command on 4th March at King William's Town. The 9th Cape Frontier War was in progress. He brought this war to an end by 12th June. In August he went to Natal to arrange an expedition against Sekhukhune's stronghold in the north-east Transvaal. The Zulu war also broke out at this time. Chelmsford left Durban for England on 27th July 1879, he was mentioned in Wolseley's dispatches as entitled to all the merit of the victory of Ulundi. he was made K.C.B. on 11th November 1878 and G.C.B. on 19th August 1879, also receiving the medal with clasp.
He became Lieutenant-General on 1st April 1882 and general on 16th December 1888. He was lieutenant of the tower of London from 4th June 1884 to 29th march 1889. On 7th June 1893 he was placed on the retired list. He held the colonelcy of the 4th (West London) volunteer battalion from 27th August 1887/8 and the Derbyshires from 30th January 1889 until transferred to the 2nd Life Guards on 27th September 1900. He was made G.C.V.O. in 1902.
Thesiger died on 9th April 1905 at the United Services Club of a sudden seizure while playing billiards theatre. He was buried with military honours at Brompton cemetery, his grave being next to his father's.
He had married Adria Fanny, edlest daughter of Major-General Heath of the Bombay army on 1st January 1867. He left four sons.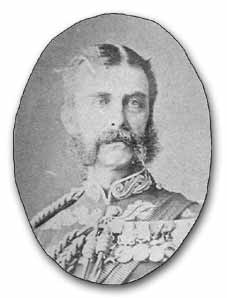 Image supplied by John Young